When it comes to picking the right musical instrument for leisure, the guitar is the first to appear in people's minds.
However, learning to play one can be challenging. That is when the ukulele takes a role.
Is the guitar or ukulele easier?
1/ The similarities
You can tell one right away – they have the identical shape of construction. What is more, they have strings that vibrate upon contact with our hands.
I feel that their play styles are equally straightforward. You can strum chords or fingerpick. In other words, you'll have no time transiting from one to another.
When I first approached the ukulele, I had no idea that it can be plug-and-play. It turns out that the ukulele can get along with an EQ system. It's what amplifies your tone – just like on the guitar.
Image link:
2/ What's the distinction then?
The average ukulele is only half as big as a guitar. As a result, one uke is lighter and more pleasant to carry around. It won't take much room inside your home, too. For guitar players, though, having plenty of people around can be struggling.
While the guitar usually has metal strings, most ukuleles use nylon strings. They are effortless to press, so there'd be less pain.
It's the right choice for beginners and young learners. For comparison, you'll need several months on the guitar to get used to the sharpness, let alone remembering chords and notes. Because the guitar also has two extra strings, it'll take more time to master.
As a result, the learning curve of the ukulele is not as steep as the guitar. To my mind, it's somewhat more comfortable than any other musical instruments. It took me almost six months to be able to play any song on a guitar, but like a week on the ukulele.
The ukulele wins hands down when talking about prices. You can get a decent ukulele for just under $100. A beginner's guitar needs to be at least $150 to sound good. With its size being smaller, the ukulele uses less material and workload to build.
You may think that the ukulele is so cheap, but the quality shows. I made a common mistake when getting my first uke – spending extra for an instrument. The more expensive it gets doesn't necessarily mean it sounds better. You'll be okay with a $50 ukulele – if you're starting to learn.
Maintaining a ukulele is also not a hard thing to do. It won't cost you much, and accessories for the ukulele are also easy to find. Everything on the guitar is pricier than it is on the uke. I also had my instruments repaired some times, and it takes ridiculously more money to fix a guitar.
 3/ Which instrument should a beginner choose?
From what mentioned above, it's clear that the ukulele is much simpler. The size, price, and play style it offers are friendly towards beginners. To declare which one is better, it's more of a subjective term.
However, I'd prefer a newbie to take ukulele lessons first. You can plan your transition to guitars later on with experience play the uke at hand.
Of course, dedication to time and effort is necessary for any tasks. But music is an entertaining thing. I think that you'll need to have fun playing first. The ukulele, therefore, is the optimal choice.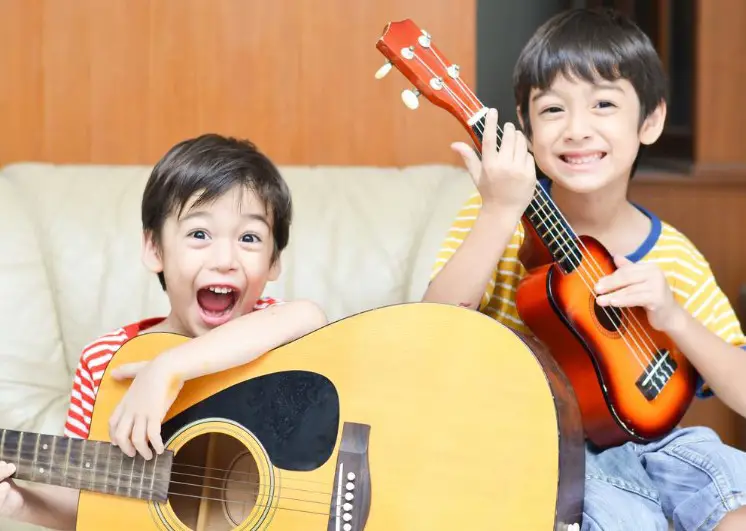 Top 5 brands of ukulele
The versatility of ukes had not been that high back in the day, but now there are lots of proper manufacturers to expect. Here are the 5 most popular brands of the ukulele.
1. Kala
They are based in California but has the love for Hawaiian vibes. They're constantly releasing new models. Last year, four new Kala ukuleles were out for sale.
Their range of products is suitable for people with all skills and levels. They have everything from beginner, budget models to very expensive professional ukuleles. A lot of famous songwriters choose this brand as their primary instruments.
When I started playing, I got the Kala KA-15S, and I must say I've been satisfied
2. Donner
This company manufactures a wide range of musical instruments. Despite the release of their first ukuleles in 2012, Donner ukes are of good quality. They don't have a long history like other brands on this list, but there's a lot to expect.
Some Donner ukuleles cost no more than $100 – suitable for starters. They also have unusual instruments like the electric bass ukulele. I think that is more relevant to instrument collectors.
3. Lohanu
Its name is Hawaiian, but the company originates from Canada, which is not so related to the ukulele! However, every tune delivers just the right spirit.
There are thousands of good reviews for this brand on the internet. With some research, you can find a perfect model to start with for as little as $50.
This brand offers a lifetime warranty as well. I gave my best friend a Lohanu for his birthday, and he loved it!
4. Fender
Fender is a famous brand that you may have heard of before. However, that's not necessarily the case when discussing ukuleles. They have a long history of making excellent musical instruments, especially guitars.
Their skill translates brilliantly to the ukulele. Fender's ukulele design, though, has many references to guitar shapes. Some models are perfect for starters and are comfortably playable.
5. Lanikai
It's like a 'local brand' in the world of ukulele. Based in Oahu, Hawaii, the brand utilizes a material called Koa. That's a native type of wood, and originally ukuleles were made with it.
They offer instruments for entry-level to high-end stuff. Keep in mind, though, as their budget ukes need frequent string tuning.
What did we miss? Feel free to add more suggestions.